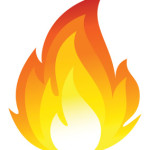 Post fire revegetation poses a variety of difficult challenges including site access, public concerns and cost of applying proven & effective materials. It is important to understand the severity of the burn and how that affects soil properties. All fires alter the cycling of nutrients, soil life, physical properties, moisture and temperature characteristics of soil.
Fire severity has a dramatic effect on soil structure. High intensity fires typically have a more severe and longer-lasting impact on soil life than low intensity fires. While various nutrients can be available during and after a fire, others may be volatilized and lost. Volatilization is temperature dependant and usually affects nitrogen and, to a lesser extent, sulfur, phosphorus and carbon. At 140° F soil proteins are eliminated; at 257° F soil is sterilized; and at 392° F nitrogen is lost. Research shows that fire destroys between 33% – 100% of soil humus and micro-organisms, depending upon the intensity and severity of the fire. High temperatures can also cause the soil to become hydrophobic and impermeable by water, impeding the water penetration necessary to support plant and soil life. This leads to erosion control and revegetation problems unique to burned sites.
It is extremely important to activate disturbed soils with a high quality and stable organic nutrient. Biosol Forte is a fermented plant based organic fertilizer and soil amendment, recognized as a multi-nutrient fertilizer because of the complex organic compounds in the organic material. It helps break up the hydrophobic layer, allowing water to penetrate the burned soil so that plant growth can be supported. Biosol Forte's stable organic material will support vegetation for years, with long lasting nutrients to activate those burned and disturbed soils. This high quality stable organic material should lead to and encourage nutrient cycling for vegetation on the burned site.
Biosol Forte has been used in fire restoration projects with long lasting success. The Coal Seam fire in Colorado and the Los Alamos fire in New Mexico were both successfully rehabilitated with one application. It is a proven and effective product in post fire reclamation.


BIOSOL For Post Fire Revegetation
Material Comparisons
Product Benefits

Biosol

Biosol Forte

Poultry Manure

Chemical Fertilizer

Composted Fert/ Mix

Compost

Effect on humus content

+ + +

+ + +
–
– –
– –

+ + +

Positively affects soil structure

+ + +

+ + +
+
– – –
– –

+ +

Positively affects soil microorganisms

+ + +

+ + +
+
– – –
– –

+ +

Provides beneficial bacteria & fungal biomasses

+ + +

+ + +
– – –
– – –
– – –

– – –

Positively affects root system

+ + +

+ + +
+
–
–

+

Nutrients available in 2nd growing season

+ + +

+ + +
–
– – –
– –

+ +
Very, Very Strong      + + +               Rating                         Very, Very Low          – – –
Very Strong                  + +                                                     Very Low                    – –
Strong                             +                                                      Low                               –
In 2002, Colorado had two devastating fire events. The first was the Hayman fire south of Denver and the second was the Coal Seam fire in Glenwood Springs. The BLM (Bureau of Land Management) in Glenwood Springs used Biosol Forte in their restoration. The BLM set up test plots with 18 inch wooden stakes to monitor the revegetation efforts they were applying by airplanes.
Dan Sokal with the BLM said "It's been over a month, with several rain events, and the treated areas are holding up very well.  This process was greatly received by the public" and "After 1 year over 70% of our seed had germinated". The following year Steve Bennett, also with the BLM, said "After two years the test plots were difficult to find due to the growth despite the fact they were marked with 18-inch wooden stakes".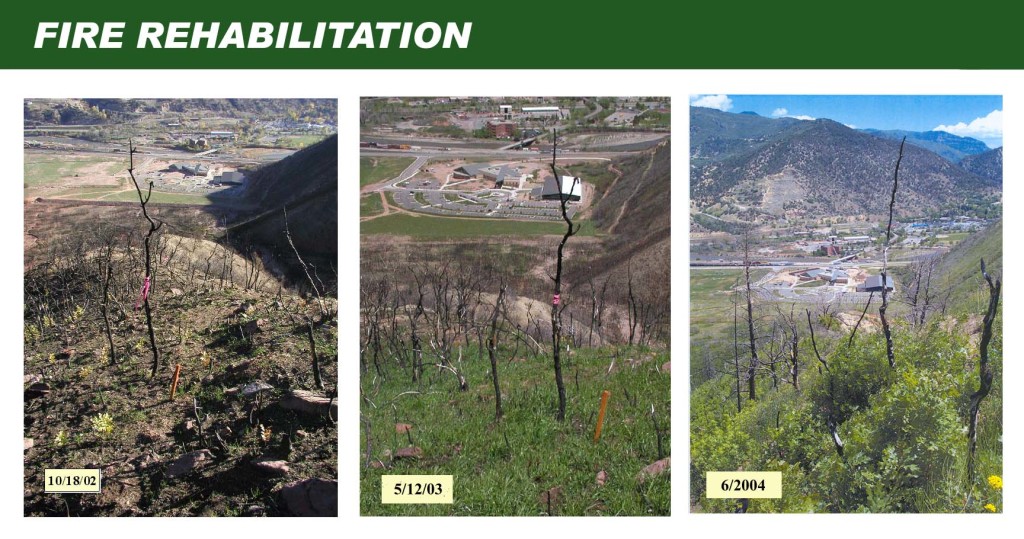 About Us
In 1987 Rocky Mountain Bio Products started with one organic product called "Biosol", a natural organic product. Over several years we slowly added other high quality products to our product line. Biosol Forte was added as an economical alternative to Biosol, while producing the same great results. Earthgreen's Menefee Humate, a micro nutrient and trace element product, was added to allow us to supply these important micro nutrients for those plant and soils that need it.
Contact Us
10801 E. 54th Avenue
Denver CO, 80239
(888) 696-8960