Rocky Mountain Planters Kit is a blend of all 3 products: Biosol Forte, Menefee Humate & MycoApply All Purpose Granular

The kit is great for smaller areas such as gardens and flower beds
The kit covers 1500-2000 sq ft.
The kit can trouble shoot almost any soil problem.
Premixed and easy to use. 20 lb Biosol, 10 lb humate and ½ lb All Purpose mycorrhizae
For larger areas the mix ratio is 100 lb Biosol, 50 lb humate and 1 lb All purpose mycorrhizae

 Read More About Our Rocky Mountain Planter's Kit
A lawn reseeded with the newest varieties of turf grasses will provide years of enjoyment.
Flower Beds and Garden
Our products have been used by award winning landscapers in Colorado and achieved award winning results around the world! Take a look at some of the incredible results achieved with Biosol, Menefee Humate and Mycorrhizae. They are used together as a Rocky Mountain Bio Products planters kit. You can achieve more flowers, vibrant color, enhanced root structure, with better heat and drought tolerance. These photos are just a very small part of the award winning results achieved by home owners and landscape contractors around the United States.
The Rocky Mountain Planter's Kit is a premier fertilizer and soil amendment product for planting and transplanting new plants. The planter's kit will increase root mass and strengthen the roots, allowing plants to maximize water and nutrient intake while reducing transplant shock. Combining Biosol Forte, Menefee Humate and MycoApply All Purpose Granular Mycorrhizae compounds the benefits of each product, allowing the soil and plants to retain more moisture. The result is a healthier, deep-rooted plant that requires less water to thrive.
                 June 3, 2006                                            August 18, 2006
The above photo were taken 6-16-06 and later 08-18-06. Notice the cannas growing from 18 inches to over 6 feet in 2 months time. The plants held their vibrant color and stature throughout the heat of the summer and long into late fall.
Biosol also benefits trees, shrubs and flowers. Because trees and several types of foliage surround many properties, Biosol is safe to be used, and in most cases, it will benefit all the foliage as well. This is why Biosol is ideal for use in the landscaping and development of new golf courses, parks, sports facilities, and in commercial and residential landscaping. There are several types of other fertilizers that cannot be used in areas that are surrounded by trees and shrubs. This is not the case with Biosol. Biosol is safe and beneficial to all types of landscape and foliage.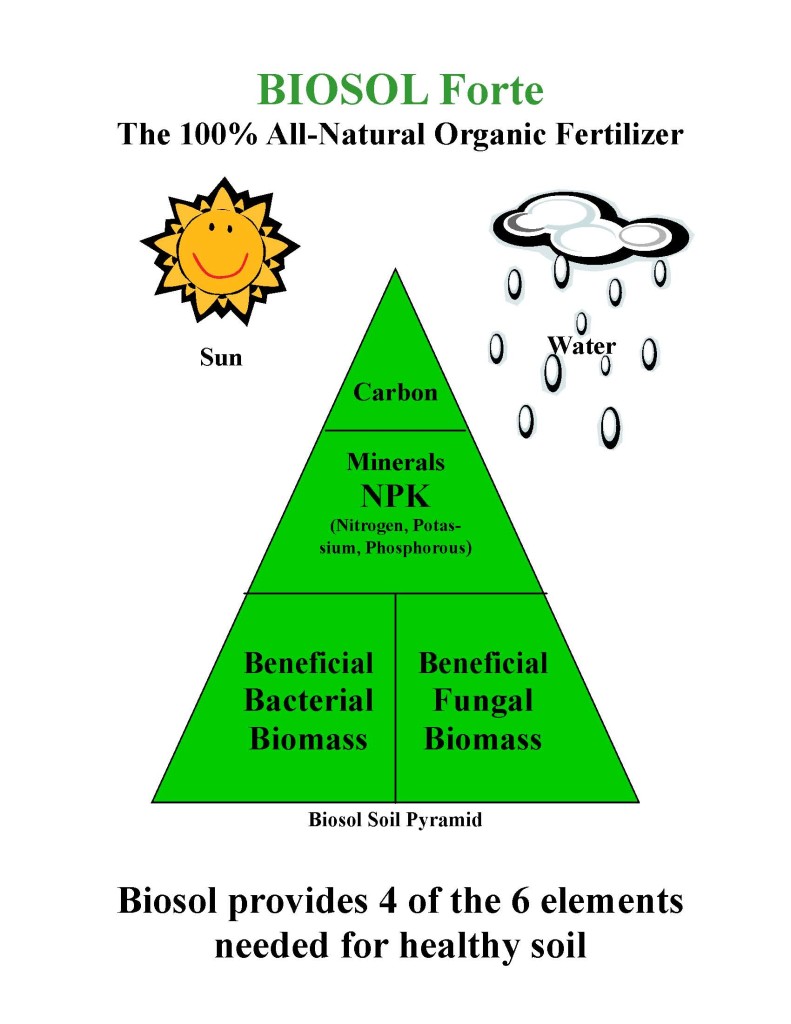 Application Rates
Home Use
Lawns
1 – 25 lb Bucket covers 1,000 sq. ft.
25
Garden Preparation
2 oz / square yard
1/3 cup
1.5 to 2
spring through fall
Seeded Row Crops
1 1/3 cup per 100 sq. ft., e.g., per 2″ inch x 50′ foot furrow. Sprinkle Biosol down row; plant seeds.
House Plants – 8″-10″ Pots
mix 3 oz. (1/2 cup) into top 1-2 inches and lightly cover with potting mix or top soil.
Unfortified Potting Soil Mixes for Potted Plants All Sizes
4 cups per 1.5 cubic ft. Use when planting (into) a pot, do not apply topically; use for house plant repotting, window boxes, container growing, etc.
From pony packs to B & B. Biosol is added in hole and in medium around plant. Whether flowers, vegetables, shrubs, trees.
Pony Pack to 4 Inch Pots
1oz Per Plant added to backfill.
spring through fall
1 to 2 Gallon Pots
1 lbs Per Plant added to backfill.
spring through fall
3 to 5 Gallon Pots
2 lbs Per Plant added to backfill.
spring through fall
B & B Root Ball & Burlap
1 cup per each foot diameter root ball. Mix in medium under and directly around the root ball.
Flower Gardens (planting)
2 oz / square yard
1/3 cup
1.5 lbs
spring through fall
Vegetable Gardens (planting)
2 oz / square yard
1/3 cup
1.5 lbs
spring through fall
Compost Preparation
10-20 lbs/yd 3
For Per Plant Home Use See Below
Farming, Gardening & Home Use Rates
Per Plant
LBS PER 100 sq. ft.
WHEN TO FERTILIZE
Vegetables (all types)
2 oz / square yard
2 tbs
1.5 to 2
spring through fall
Corn
1,300-1,600 lbs/acre
3/4 cup
3 to 3.5
prior to cultivation
Pulses, Cereals
500-900 lbs/acre
1 tbs
1 to 2
prior to cultivation
Potatoes
900-1,400 lbs/acre
1/4 cups
2 to 3
prior to cultivation
Sugar Beets
800-1,300 lbs/acre
2 tbs
2 to 3
prior to cultivation
Strawberries, Tomatoes
900-1,200 lbs/acre
2 tbs
2 to 3
late fall or spring
Vineyards
600-900 lbs/acre
3/4 cup
1.5 to 3
Feb.-April/Oct.-Dec.
Young Fruit Plantation
600-800 lbs/acre
1 cup
1.5 to 3
spring or fall
Fruit Plantation
500-700 lbs/acre
3/4 cup
1 to 2
spring or fall
Berry Shrubs
600-800 lbs/acre
1 1/2 cups
1.5 to 2
spring or fall
Meadows, Pastures
800-1,000 lbs/acre
2 to 2.5
spring or fall
Trees and Shrubs
Young Trees & Shrubs
3 oz/plant
1/2 cup
1.5 to 2
spring
Ornamental Trees, Shrubs
6 oz/square yard
1 cup
5 lbs
spring
Tall Mature Trees
1 lb per 3 feet of tree height
spring & fall